Reinforcing crosspieces:
These are used as reinforcing elements for the racks from our ORION PLUS boltless system, if this is not done using diagonal braces.
Different numbers of reinforcing crosspieces are used, depending on the height of the rack (see schematic diagram). They also act as shelf rests if shelf supports are not used.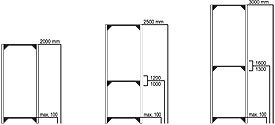 Reinforcing crosspiece